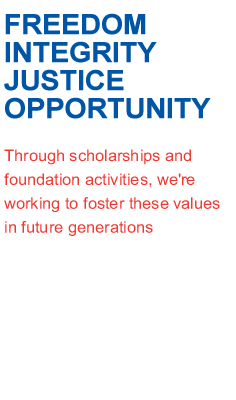 News Archives
Prior news and press releases related to The J. Edgar Hoover Foundation:

June 13, 2011: J. Edgar Hoover Foundation Honors Jessica Placido with $25,000 Scholarship
In a small reception held in the D'Angelo Center on the Queens campus on Monday, June 13, Jessica Placido, a St. John's University graduate student pursuing a Ph.D. in Pharmaceutical Sciences with a specialization in Toxicology was formally presented with the prestigious J. Edgar Hoover Foundation Scientific Scholarship award. Learn More

May 1-2, 2011: J. Edgar Hoover Foundation holds Annual Board Meeting
The annual Board of Directors meeting was held on May 1, 2011 in Naples, Florida. The Annual Meeting is usually a two day event during which scholarships are awarded and foundation business is addressed.
In addition to making annual contributions to the Foundation each Director provides for their transportation and lodging costs associated with the meeting.
April 8-13, 2011: Foundation Defends J. Edgar Hoover Legacy in Anticipation of Upcoming Movie
The foundation exchanged correspondence with Director/Producer Clint Eastwood regarding the accurate portrayal of J. Edgar Hoover in Mr. Eastwood's upcoming movie. See the Letters

July 7, 2010: National Law Enforcement Museum Announces Acquisition of J. Edgar Hoover Estate
When the National Law Enforcement Museum opens in Washington, DC, in 2013, it will house one of the most extensive collections of objects related to the life and work of long-time FBI Director J. Edgar Hoover, Museum officials announced Wednesday. Learn More

June 9, 2010: J. Edgar Hoover Foundation Forensic Scholarship awarded to Shannon Bell
On June 9, 2010 Director William Baker, acting on behalf of the J. Edgar Hoover Foundation , visited The University of California at San Francisco School of Medicine, where in the presence of Dean Maxine Papadakis and other students and faculty, presented Ms. Shannon Bell, a third year medical student with the JEHF Forensic Scholarship in the amount of a $25,000 check from our foundation.