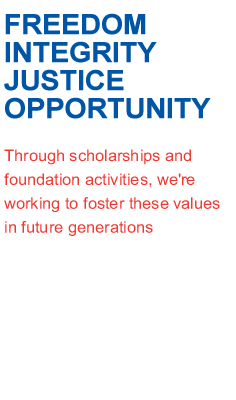 Biography of John Edgar Hoover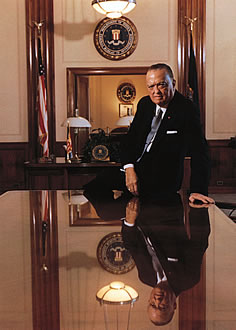 Childhood and Education
John Edgar Hoover was born January 1, 1895 in Washington, D.C. to Dickerson Naylor Hoover, Sr. and Annie Marie Scheitlin Hoover. Hoover, like his father and grandfather, was a life-long resident of the District of Columbia, and he never traveled outside the U.S. Hoover had a brother, Dickerson, Jr., 15 years older; and a sister, Lillian, 12 years older. He also had a second sister, Sadie Marguerite, who died at the age of 3.
In 1913, Hoover graduated as valedictorian of his Central High School class. While in high school Hoover was a member of Central High's undefeated debate team and Captain of Cadets. Lacking funds for living expenses he was unable accept a scholarship offer at the University of Virginia. Instead, he took a clerical position at the Library of Congress and enrolled in night classes to pursue a law degree. Hoover received his LLB and LLM degrees from George Washington University in 1917.
Early Years With The Department of Justice
Following graduation from George Washington University, Hoover was admitted to the bar and began his career at the U. S. Department of Justice. Prior to his death Hoover was admitted to practice law before the bar of the District Court of the United States for the District of Columbia, the United States Court of Claims, and the United States Supreme Court.
Based upon his early performance, Hoover was named a Special Assistant to Attorney General Mitchell Palmer. In 1919, Hoover was named Chief of the General Intelligence Division. The General Intelligence Division later became part of the Bureau of Investigation. The Bureau of Investigation was formed by the Attorney General in 1908 to address certain federal laws with an interstate aspect. Hoover served as Assistant Director of the Bureau of Investigation beginning in 1921.
In 1924, Attorney General Harlan Fiske Stone appointed Hoover as Acting Director of the Bureau of Investigation with the agreed mandate to professionalize its personnel and operations. At that time, the Bureau of Investigation consisted of approximately 650 employees, 441 of whom were Special Agents. Hoover immediately began to dismiss the political hacks and incompetents and to establish strict rules and regulations for the handling of investigations and personal conduct. He also instituted practical training for all employees. Hoover soon consolidated all fingerprint records systems into an Identification Division under his management and in 1932 established the Laboratory Division to begin application of scientific principles to law enforcement investigations. The Bureau of Investigation became widely known in the late 1920s and early 1930s for its success against prominent interstate criminals involved with kidnaping, bank robberies, and extortion.
Federal Bureau of Investigation: the Beginning
In 1935, Congress passed legislation creating the Federal Bureau of Investigation, and its motto became Fidelity, Bravery, and Integrity. To increase the effectiveness of local law enforcement, in 1935, Hoover established the FBI National Academy to train selected personnel from state and local law enforcement agencies throughout the country.
In the late 1930s, as the United States approached World War II, the FBI still had less than 700 Special Agents. President Roosevelt personally delegated to Director Hoover responsibility for espionage and sabotage investigations. The FBI broke up a number of major espionage groups and others bent upon sabotaging the U. S. war efforts. During this time, the FBI established several overseas posts, mainly in South America to assist in these investigations and in intelligence gathering. Much of this activity was subsequently absorbed into the Central Intelligence Agency upon its formation in 1948. The FBI did maintain some overseas postings as "Legal Attaches" at certain Embassies to assist its investigative endeavors.
Following World War II, with then about 4,000 Special Agents, the FBI turned much of its efforts towards combating subversive activities of the Communist Party-USA and its affiliation with the Soviet Union. Through infiltration of its ranks and conviction of many of its leaders, the Communist Party eventually became a near postscript to history.
When legislation was finally passed giving the FBI jurisdiction in organized crime cases, many of the "Mafia" leaders were soon in jail. Hoover was always adamantly opposed to a National Police Force and rarely sought extension of FBI jurisdiction. He used existing legislation to investigate the Ku Klux Klan and the most egregious violations of individual rights.
In the late 1960s, Hoover established the National Crime Information Center, the precursor of the now wide-spread internet-based communication of law enforcement data.
Death and Funeral
After putting in a full day of work on Monday, Hoover was found dead of natural causes at his residence on the morning of Tuesday, May 2, 1972, ending nearly 48 years at the helm of the FBI. Hoover was, and still is, one of the most widely known public officials of all time.
By Resolution of Congress, Hoover became the first civil servant honored by having his body lie in state in the Rotunda of the Capitol. In eulogy, Chief Justice Warren E. Burger hailed Hoover as a "man who epitomized the American dream of patriotism, dedication to duty, and successful attainment....a man of high principle whose beliefs were based on Christian faith...a man of great courage who would not sacrifice principle to public clamor....a great American who served his country so well and earned the admiration of all who believed in ordered liberty."
At his funeral service, at the National Presbyterian Church on May 4, 1972, President Nixon, in a lengthy eulogy said "J. Edgar Hoover was one of the giants. His long life brimmed over with magnificent achievement and dedicated service to this country which he loved so well....the good J. Edgar Hoover has done will not die. The profound principles associated with his name will not fade away. He personified integrity...honor...principle... discipline...dedication...loyalty...patriotism..."
J. Edgar Hoover was an American hero, especially to his contemporaries; an American Legend whose career will likely never be equaled. He served 16 Attorneys General and 10 Presidents. After his death, some scurrilous allegations have been levied against him and his FBI, but few, if any, are supported by credible evidence.
Hoover kept on his desk a framed copy of "Penalty of Leadership" and perhaps a line from this small statement best capsules his life: "When a man's work becomes a standard for the whole world, it also becomes a target for the shafts of the envious few." Hoover's monumental achievements will forever stand as his contribution to the American way of life. As Winston Churchill once said: "The truth is incontrovertible, malice may attack it, ignorance may deride it, but in the end, there it is."
Awards, Honors and Associations
In addition to his law degrees from the George Washington University, Hoover received many honorary degrees, including from: the George Washington University; Pennsylvania Military College; New York University; Kalamazoo College; Westminster College; Oklahoma Baptist University; Georgetown University; Drake University; University of the South; University of Notre Dame; St. John's University Law School; Rutgers University; University of Arkansas; Holy Cross College; Seton Hall College; Marquette University; Pace College; Morris Harvey College; and the Catholic University of America.
In 1922, Hoover received a commission in the U. S. Army Reserve, which he resigned from in early 1942 because of the importance of his work in the FBI. Hoover held the rank of Lt. Col. in Military Intelligence.
The following are only a few of the many awards and recognitions Hoover received during his lifetime:
1939 - Hoover received the National Science Foundation Medal honoring his successful efforts to apply science to crime detection
1946 - Hoover was presented the Medal For Merit by the President of the United States
1955 - the President presented Hoover the National Security Medal
1958 - the President presented Hoover the President's Award For Distinguished Federal Civilian Service
1958 - Hoover received the "Great Living Americans" award from the U. S. Chamber of Commerce
1961 - the U. S. Senate passed a resolution commending Hoover upon 37 years of "Distinguished Service to the United States" as Director of the FBI
1962 - the Order Knights of Pythias conferred its first distinguished service award upon Hoover, and the Jewish War Veterans of the U. S. A. presented to him their highest award, The Gold Medal of Merit inscribed "In recognition of Outstanding and Meritorious Service in the Battle for Civil Rights and Liberties...."
1963 - Hoover was the recipient of the Brotherhood Award from the Brotherhood of Washington Hebrew Congregation "for his unswerving devotion to the betterment of brotherhood among all races, creeds, and colors."
1964 - Hoover received the "Sword of Loyola Award" because "his life has been one of selfless devotion to country and God."
1965 - Hoover was awarded the "Grand Cross of Honour" by the Supreme Council, 33d degree, Scottish Rite
1968 - The Congressional Merit of Honor Society passed a resolution commending J. Edgar Hoover for his devoted service to the United States of America
1969 - Hoover received a commendation medal and plaque from the president general of the Sons of the American Revolution
On several occasions, Hoover received the "George Washington Honor Medal" and other awards from the Freedoms Foundation at Valley Forge; Hoover was a Mason, both Royal Arch and Scottish Rite, 33d degree, and a Shriner.
Hoover was also an honorary trustee of the George Washington University; member, Board of Directors, Boy's Clubs of America; member, National Court of Honor, and Honorary Member, National Council, Boy's Scouts of America; member of National Advisory Council, Girl Scouts of the United States of America; active member, International Supreme Council of the Order of DeMolay; Trustee National Presbyterian Church.
Hoover authored four books: "Persons in Hiding," 1938; "Masters of Deceit," 1958; "A Study of Communism" 1962; and "J. Edgar Hoover on Communism," 1969, in addition to hundreds of articles and statements.