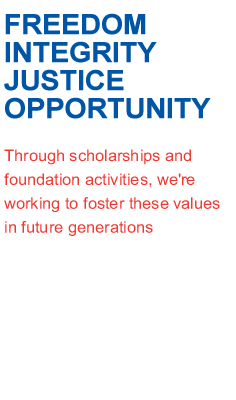 J. Edgar Hoover Foundation Board of Directors
The Directors of the J. Edgar Hoover Foundation have pledged themselves to continue Hoover's work. And while they come from different backgrounds and different parts of the country, all share a common goal. To preserve and safeguard the memory of J. Edgar Hoover and all that his legacy represents. Love of country. Fidelity to law. And dedication to the public interest.
Directors of the Foundation: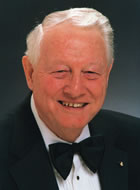 C.D. Deloach
(1920-2013)
Chairman Emeritus
Hilton Head Island, South Carolina
"Deke" - Stories from the Historical Committee
Previously Corporate Vice President, Pepsico, Inc., Mr. DeLoach served for 28 years in the FBI, including positions as Resident Agent, Special Agent Supervisor, Inspector, Assistant Director and Assistant to the Director. He graduated from Stetson University and attended Stetson University Law School. In addition to numerous articles and other publications, Mr. DeLoach authored "Hoover's FBI," which is now in its fifth printing.
Mr. DeLoach at one time was the third most senior official in the FBI after J. Edgar Hoover and Clyde Tolson. He peacefully passed in March 2013 at his residence in Hilton Head, South Carolina.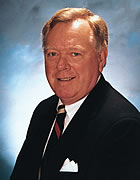 William D. Branon
Chairman of the Board & Director
Gates Mills, Ohio
Mr. Branon served over 30 years with the FBI, compiling a distinguished record in law enforcement and organizational development. He has served as Special Agent In Charge in several offices around the country, including the Chicago Division. He has held various administrative positions at FBI Headquarters and played a pivotal role in the advancement of technological, communications and investigative excellence within the agency. Citations include the Presidential Rank Award, Meritorious Executive, conferred by President George Bush; a Member of the Senior Executive Service, U.S. Government and Law Enforcement Officer of the Year, U.S. Marshals Service.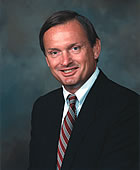 William M. Baker
Director
Westlake Village, California
Mr. Baker, currently a consultant, is the former President and COO of the Motion Picture Association, the trade association and mini "state department" for the U.S. film industry. A graduate of The University of Virginia, he then served as an Air Force officer, a top aide to the Director of Central Intelligence and 26 years with the FBI. He retired as FBI Assistant Director, Criminal Investigative Division. Recognition includes The President's Distinguished Executive Award, The Attorney General's Edmund Randolph Award and The Distinguished Intelligence Medal.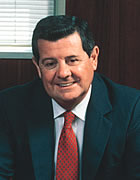 Joseph F. D'Angelo
Director
Manhasset, New York
Mr. D'Angelo is the former President and Chief Executive Officer of King Features Syndicate Division, Hearst Corp. He serves as a board member/officer of The International Museum of Cartoon Art, North Shore University Hospital, Emerson College (Boston), St. John's University College of Business Administration, and the NYC Baseball Federation. In addition, Mr. D'Angelo is a member of the NY Board of Trade, NY Newspaper Publishers Association, Museum of Television and Radio and National Press Club.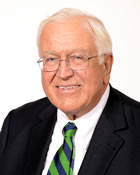 Edward A. Lozick
(1937-2015)
Director
Cleveland, Ohio
Mr. Lozick was the Chairman of Swagelok Corporation in Solon, Ohio. Swagelok is a major developer and manufacturer of fluid system component technologies for the research, instrumentation, pharmaceutical, oil and gas, power, petrochemical, and semi conductor industries. He was an avid supporter and spokesperson of law enforcement and criminal justice, and also was the co-founder of Crime Stoppers of Cuyahoga County, Inc., and served as its chairman for 20 years. He was a supporter of Blue Coats, Cuyahoga County Police Chiefs Association, State Troopers of Ohio, National Executive Institute Associates and various other related organizations.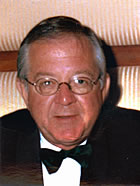 Gary L. Penrith
Director
Chicago, Illinois
Mr. Penrith, after serving with the FBI for 24 years and the U.S. Army for two years, presently serves as a Director of the Marine Corps - Law Enforcement Foundation, The Former Agents of the FBI Charitable Foundation and The Newport Township Public Safety Foundation. A graduate of the University of Miami (BBA), the University of Southern California (MBA) and Harvard University's Program for Senior Managers in Government, Mr. Penrith retired from the FBI 1992, as SAC of the Newark Division, after having served as SAC, San Diego Division, and Deputy Assistant Director, Intelligence Division.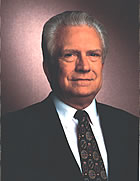 Marion S. Ramey
Director
Owings, Maryland
Mr. Ramey's FBI service of over thirty-four years included early stints in Director Hoover's Office, managing major cases and supervising operations in field offices, and many assignments at FBI Headquarters where he served as Unit Chief, Section Chief, and Inspector-Deputy Assistant Director of Programs Evaluations and Audits. He served on detail for three years as Assistant Director, Surveys and Investigations Staff, Committee on Appropriations, US House of Representatives. He also served as Chief of Staff for the Attorney General's Study of International Narcotics Law Enforcement. He has Bachelor's and Master's Degrees in Accounting and was the first FBI graduate of Harvard University's Program for Senior Managers in Government. In 1982, he was detailed to the Drug Enforcement Administration to serve as Assistant Administrator/Chief Inspector. He retired in 1988 and served as Executive Director of the Special Agents Mutual Benefit Association (SAMBA) which administers one of the Federal Employees Benefit Plans and other insurance for federal law enforcement personnel. For several years, he was President of the Association of Federal Health Organizations before retiring in 2000. He served several years as Chairman of Trustees for his local Elks Lodge. He is currently a member of the Board of the National Law Enforcement Museum in Washington, DC.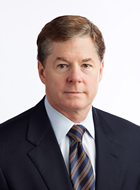 John F. McCaffrey
Director and General Counsel
Cleveland, Ohio
Mr. McCaffrey is a former Special Agent of the FBI and former prosecutor. He is a partner in the law firm Tucker Ellis LLP. Mr. McCaffrey is a Fellow of the American College of Trial Lawyers and has been admitted to practice in New Jersey, New York, Ohio, and the District of Columbia as well as before the United States Supreme Court. Mr. McCaffrey provides his services to the Foundation pro bono.
Former Directors of the Foundation:
Louis B. Nichols (Chairman and Founding Director)
William G Simon (Founding Director)
Donald J. Parsons (Founding Director)
Cartha D. DeLoach (Chairman and Chairman Emeritus)
Edward A. Lozick (Director)
Harvey G. Foster (Director)
Neil J. L. Pieper (Director)
John S. Bugas (Director)
Samuel L Devine (Director)
Marlin W. Johnson (Director)
Eldon Rudd (Director)
Mrs. Carroll S. Nichols (Honorary Director and wife of Founding Director Louis B. Nichols)
Ms. Helen Gandy (Honorary Director and former secretary and assistant to Director Hoover)
With the exception of Mrs. Nichols, all of the above-listed individuals served with the FBI with distinguished careers. Samuel L. Devine and Eldon Rudd served in the United States Congress following their FBI employment.