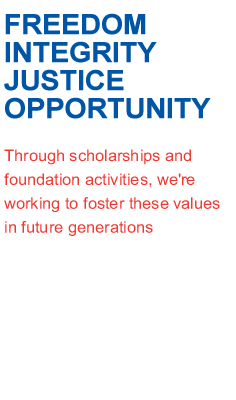 The J. Edgar Hoover Foundation Scholarships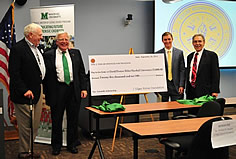 Since the founding of The J.Edgar Hoover Foundation, over three and one half million dollars have been distributed for scholarships, grants for education, as well as legal and professional law enforcement training.
Scholarships and grants are provided to selected college and university students pursing undergraduate and graduate degrees. These scholarships are presented based on a combination of merit and need, including individuals who may not have an opportunity for higher education. Many recipients are pursuing degrees in law and law enforcement related studies. The J. Edgar Hoover Foundation has awarded many scholarships to the sons and daughters of special agents of the FBI, as well as state and local law enforcement officers.
Each year, a Scientific Scholarship in the amount of $25,000 is awarded to a deserving candidate. This award is conferred based on a candidate's interest in pursing a forensic science related career in law enforcement.
The Foundation's Board of Directors solicits candidates for the Scientific Scholarship from colleges and universities with accredited forensic science programs. The candidates are then reviewed during the annual meeting of the Foundation's Board where the selection of a deserving recipient is made. The Scientific Scholarship program has been in effect since 2001 and to date over $250,000 has been awarded.
Prior Winners of the J. Edgar Hoover Foundation's Scientific Scholarship
2015 - Gina M. Dembinski, Indiana University - Purdue University Indianapolis
2014 - David Preston Miller, Marshall University
2013 - Andrew Koutrakos, University of New Haven
2012 - John McIlroy, Michigan State University
2011 - Jessica Placido, Saint John's University
2010 - Shannon Bell, The University of California at San Francisco School of Medicine
2009 - Jessica Nelson, George Washington University
2008 - Alejandra Ramirez, California State University
2007 - Michael Bukys PhD, Cleveland State University
2006 - Douglas Jackson, University of Georgia
2005 - Emily Ross, George Washington University
2004 - Gina Badalato, Columbia University
2003 - Erin Hurley, Stetson University
2002 - Kristy Reynolds, University of Maryland
2001 - Sandra Bishop, Ohio University
Prior Winners of the Cartha "Deke" DeLoach Forensic Scholarship Award
2015 - Alison G. Simon, Florida International University
2014 - Barbara L. Fallon, Michigan State University
2013 - Kayleigh Rowan, Boston University School of Medicine